In the Depths of Hagia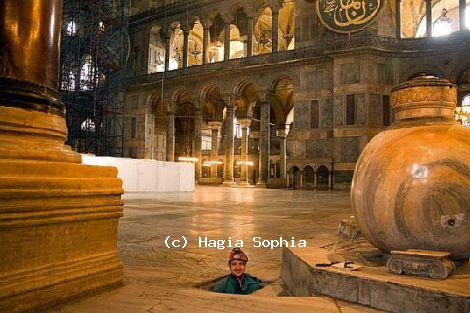 Goksel Gulensoy tried to reveal the hidden secrets of Hagia Sophia lying beneath the surface in his new documentary. He with his team of two divers and four spelunkers dived to learn more about the reservoirs which are connected to Topkapi Palace and Underground Cistern.
Although he has started his studies back in 1998, he could complete his 50 minute documentary In the Depths of Hagia Sophia in 2009.

The first to explore was the reservoir close to the entrance. It is 12 meters deep and the divers found two thick pieces of wood and a bucket which turned into dust when they were touched.

In the second reservoir they found a dozen flasks dated 1917, glass from the chandeliers, a chain with two rings at the end and pieces of stained glass.

International Speleological Society of Bogazici undertook the search of the tunnels under the main hall of Hagia Sophia. They found two stone tunnels towards to Sultanahmet Square and Topkapi Palace. Both ends of the tunnel split into two after 50 meters but the passages were closed. 

One of the searchers Aydin Menderes moved towards the direction of Topkapi Palace until he saw daylight between the stones. He used a pen camera to see that he had reached the palace yard. He went back to enter another tunnel which led to two rooms. There were bones and broken jugs which were expected to be the gravesite of St Antinegos who was the first to be buried in Hagia Sophia and the bones of Patriarch Athanasius.